These past few pandemic years have seen many of our habits change for good. We've become more accustomed to a different style and pace of living and working. Our fashion choices have had to adapt to keep up with our transformed routines and one of the items that has seen a revival is joggers (aka sweatpants). 
You may have noticed this if you're an Instagram fan. Joggers now seem to be appearing in our feeds, worn by all sorts of fashion influencers. Of course it's a wider trend that's not only about Instagram - just look at the rise in searching for joggers and sweatpants in Google over the past few years. There has been a massive upsurge.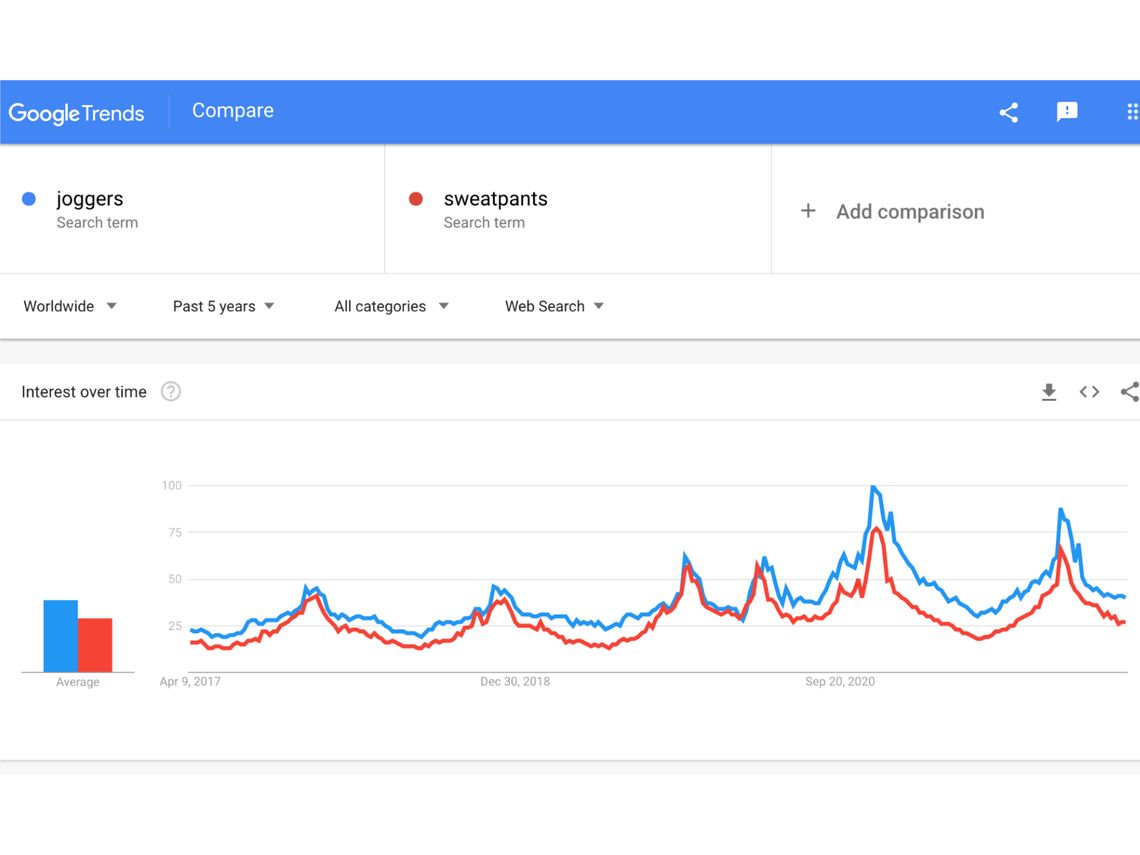 It seems odd that an item that has been considered passé for so long is suddenly so in vogue. But it's not hard to understand why sweatpants and joggers are so popular again. Whether it's working from home or staying in more often instead of heading out, they just feel great to wear. And if you style them in the right way they can even look edgy.

Thinking about it, maybe it's not just a pandemic trend but a time to reappraise joggers and welcome them back to our wardrobes for good.
Here's what you should look for to find the perfect sweatpants.
The right fabrics can yield the ultimate comfort level
First things first, fabric. It's an aspect you should consider in detail before buying any item of clothing - and joggers are no exception. However, in the case of joggers, the comfort factor of the fabric needs some extra consideration.
There are all sorts of fabrics used to make joggers but the classic that we recommend you go for is cotton. It's a natural fabric that's super soft, breathable, and flexible. It's also kind on the skin because it's hypoallergenic. With other items of clothing like shirts or trousers, there's a bit of debate about what fabric to go for but with sweatpants and joggers there really is only one go-to: and that's cotton.
On the other hand, you should avoid synthetics at all costs. They are less comfortable to wear and they're also just not sustainable overall. And with the shocking news that microplastics have been found in human blood for the first time, it's another reason to avoid synthetics like polyester, which can leak microplastics when washed.
Nevertheless, due to their affordability, these kinds of chemically-produced fabrics are frequently used to make sweatpants and joggers, most often in blends with better fabrics like cotton. So don't forget to check the label before buying!      
Like joggers, sustainability is in
At the start of the article, we mentioned the rising trend of joggers over the past few years. And another rising trend is sustainability. The changes in our world have made more people switch-on to living a more sustainable lifestyle. You could go so far as to say that there's been a sustainable transformation in the collective consciousness - at least when it comes to younger generations. 
There are many ways to be more sustainable but a practical and impactful way is to wear more sustainable clothes. This is why you see so many sustainable fashion brands these days. The things they sell are in demand for a reason.
And so, a key aspect of finding a great pair of sweatpants or joggers is sustainability. We recommend that you select a pair of joggers that are made from a quality sustainable fabric, like the GOTS-certified organic cotton used by POMP in our sustainable joggers for women and men. You should also look for brands that produce and deliver their clothes sustainably.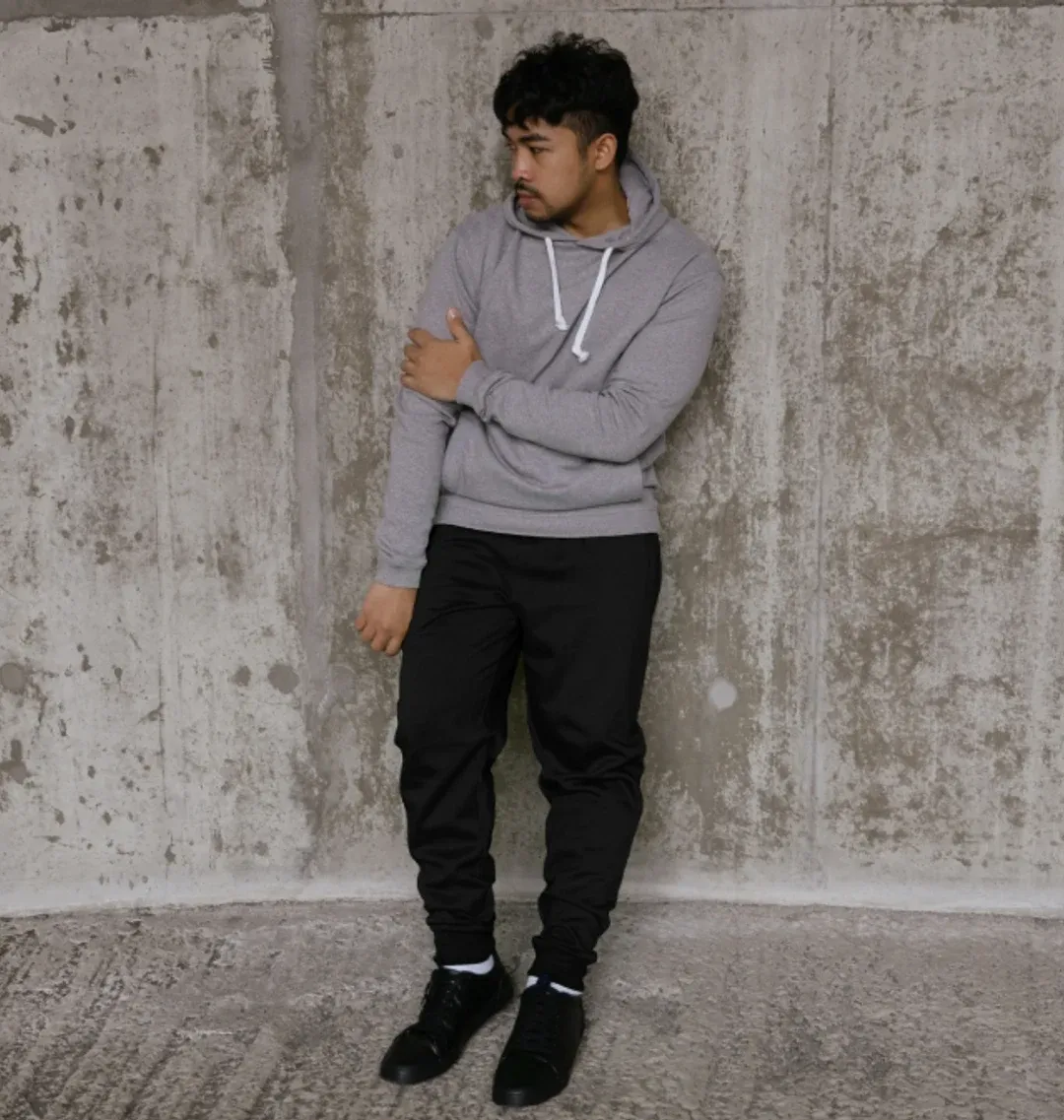 Our sustainable men's joggers
Our sustainable women's joggers
This way, your joggers will be made ethically and with a lower environmental impact. And if your joggers are made from quality fabric, they'll also last a long time so you won't need to buy another pair in the near future, repeating those environmental impacts all over again in the process.
POMP also goes a bit beyond most sustainable fashion brands. Here's how:
We use 100% high-quality GOTS-certified organic cotton

We use low impact printing

All our packaging is plastic-free

All our products are recyclable

Our products are made in a renewable-energy factor

We only make pieces to order, leading to zero waste.
Don't forget about design & fit
The next thing to consider with your sweatpants and joggers is the design. We recommend that you go for sweatpants with a minimalist design and classic tones, like black and grey. Avoid garish designs or patterns, which can just look a bit silly (or even tacky). 
Plain sweatpants are also more versatile and immune from fashion trends, which is another characteristic that contributes to sustainability. A timeless item is less likely to fall foul of trends and be turned away from your wardrobe once the fad fades away. You'll wear them again and again without sending them to landfill.
A final thing to look for is the GSM. This means grams per square metre and describes how thick the joggers are. Without going into too much detail, a GSM of around 250-400 will work very nicely indeed -  with around 300 being a sweet spot for optimal comfort and cosiness.
POMP's sustainable sweatpants & joggers
If you're looking for a pair of sustainable sweatpants then you're in luck. At POMP, we've just released our sustainable joggers for women and men - as part of our sustainable essentials range. 
Our sustainable joggers tick all the boxes mentioned throughout this post:
GOTS-certified organic cotton

GM-free and not tested on animals

300 GSM

Timeless black and grey design

Available today with same-day shipping!

Sustainably made in the UK and delivered in plastic-free packaging.
Interested in a more sustainable essential style? Take a look at our sustainable essentials range. We've got many other timeless items there too, including t-shirts, shorts, sweatshirts, and more.