END-TO-END SUSTAINABILITY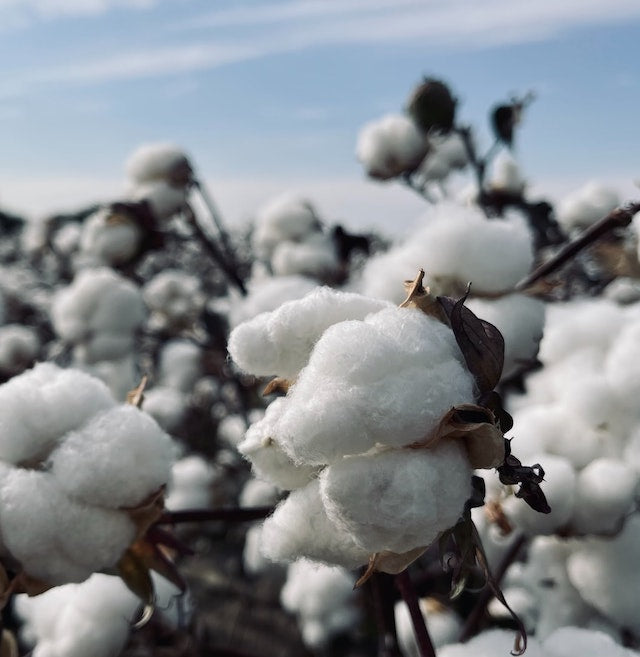 Natural Materials
POMP uses certified organic fabrics. Every product has been designed to be sent back for recycling, starting from the materials level.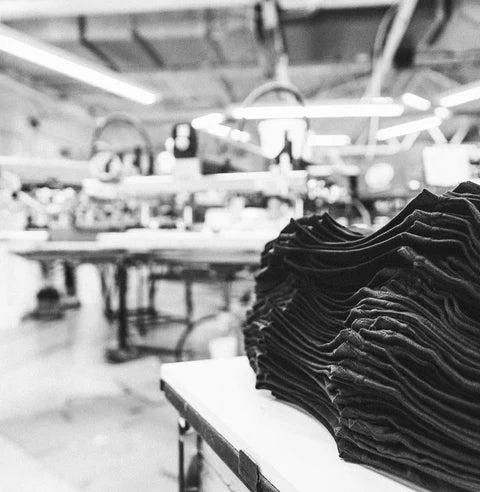 Innovative Production
Using efficient and modern technologies, products are made to order, reducing the heaps of waste typically found in the fashion industry.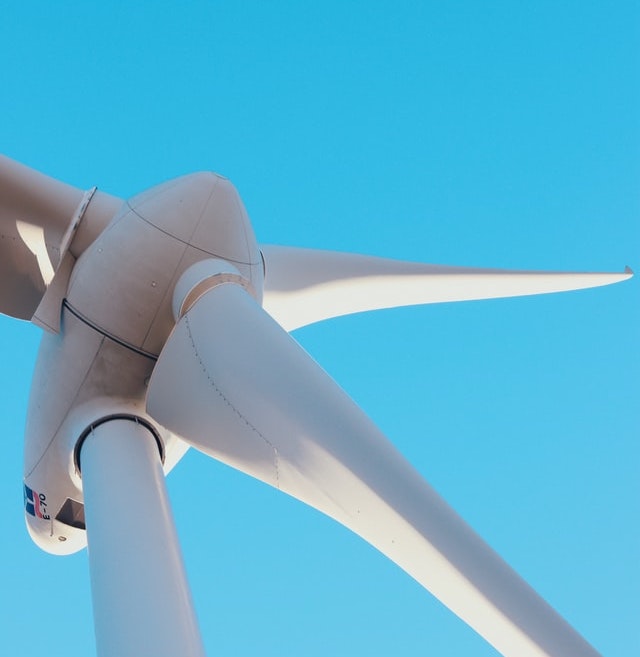 Renewable Energy
Throughout our entire supply chain, we use renewable energy from the sun and wind to power production. If we can, why wouldn't we?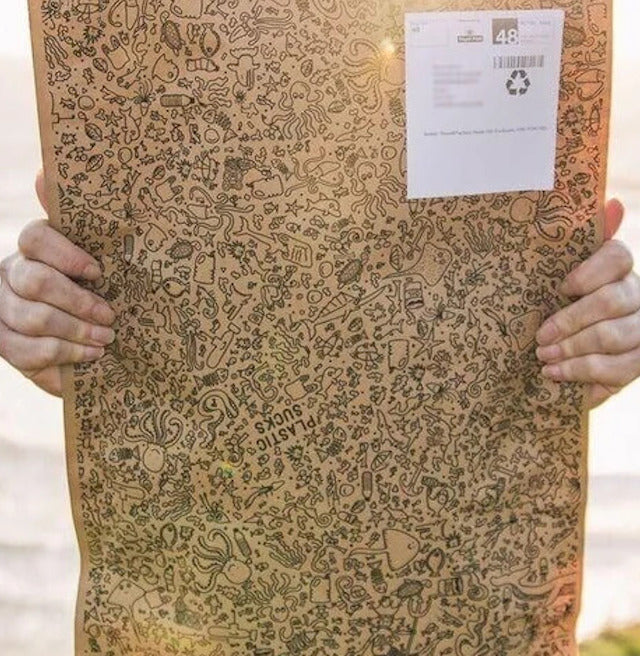 Plastic-free Packaging
Our packaging and the tape we use on it is paper-based, not plastic-based. And any stickers are made from recycled material.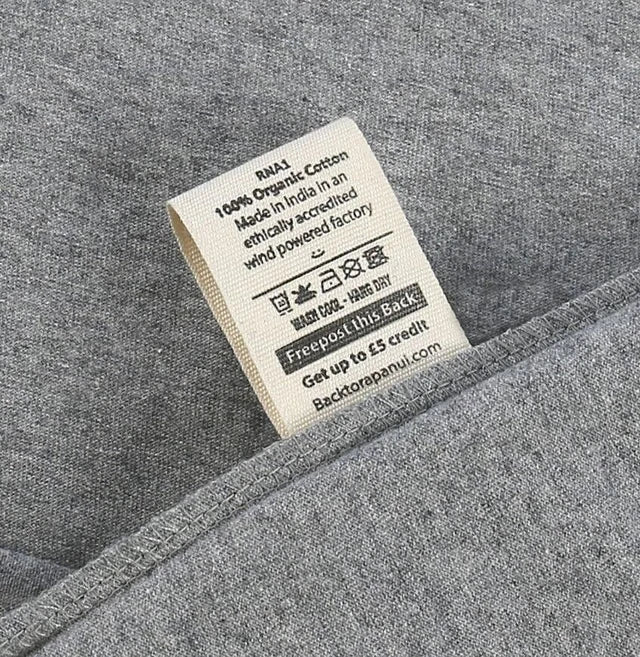 Circular Economy
Our Sustainable Essentials collection uses 50% recycled organic cotton and 50% virgin organic cotton. No polyester. No microplastics.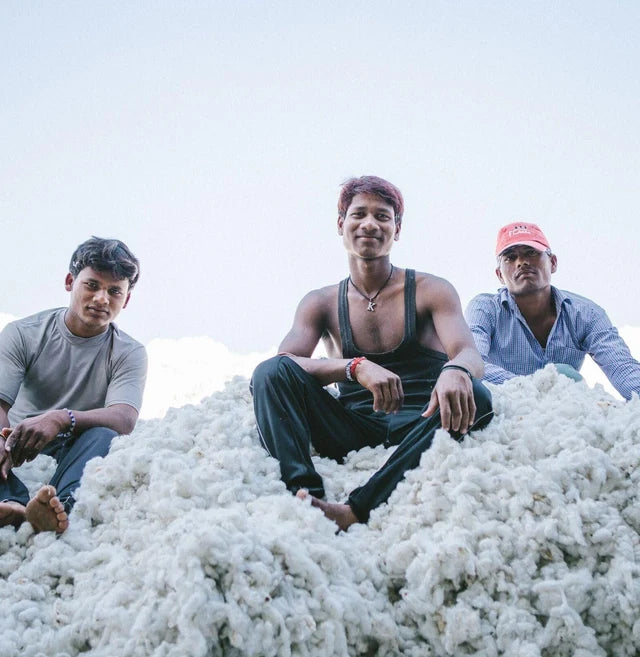 Materials
Made From Natural Materials
We put a lot of thought into what fabrics we use because in order to be circular, we have to start thinking sustainably at the materials level. Every product we make is designed to be sent back when worn out and to be made into new products from the recovered material. We're aware of the danger of microplastics and that the use of them in clothing would perpetuate the plastic problem. So instead, we use natural, organic fibres that are free from toxic pesticides and fertilisers - certified to the Global Organic Textile Standard (GOTS).
The benefits of organic farming? Organic farming encourages biodiversity and leads to the extra soft feel of our products. Farmers also earn more due to the better soil quality and water security; food crops can be grown on the same soil in the dry season. We can go on and on about the benefits, but you can read about it more in detail here. We grow our organic cotton on fields in the north of India, where the monsoons fill reservoirs that supply almost all the water needed.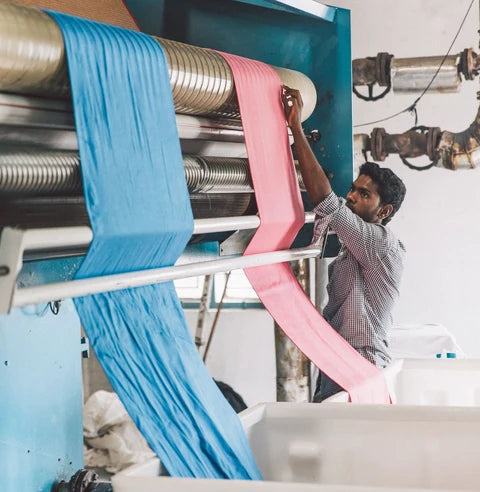 Manufacturing
Innnovative Production
The factories we choose to work with use innovative and modern technologies that allow us to work in real time, producing little to no waste. Products are made to order, not made to stock based on anticipated consumer demand. The machine-to-machine communications technology also allows equipment to dynamically be turned on and off when necessary.
These technologies make production much more efficient, allowing us to save costs at the same time which can be reinvested into the facilities, working conditions, and team.
High-tech, low waste.
Certified organic cotton.
Open access technology.
SA800 Certified (Social Accountability Audit).
Carbon Neutral
Renewable Energy
We're committed to using renewable energy because if we can, why wouldn't we? Renewable energy is essential in combatting climate change. It's also affordable and reliable. So we use it throughout our entire supply chain - in the UK, we use solar energy and power our manufacturing operations with renewables. And in India, the factory we work with owns two wind farms and a 150kw PV array.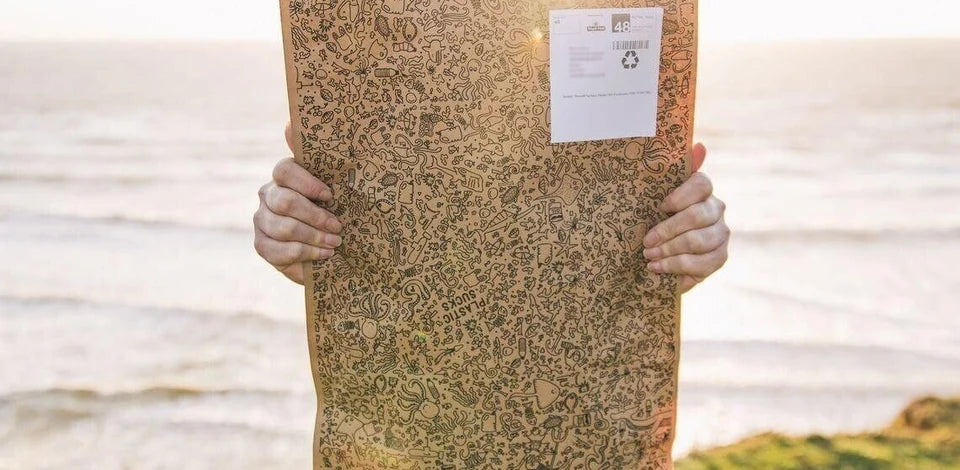 Packaging
Plastic-free Packaging
The plastic problem is not something we want to contribute to, especially when there are heaps of alternatives! Our packaging is entirely paper-based. Big orders come in cardboard boxes, with paper-based tape. We encourage you to reuse the packaging! Also, our stickers are made out of recycled materials. So you can order from us guilt-free.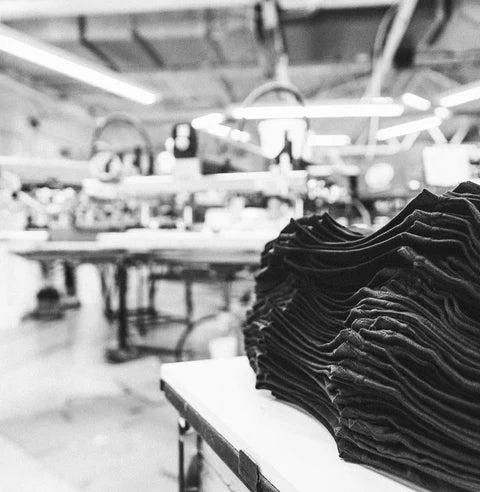 Zero waste
Circular
With the amount of waste being produced by the fashion industry, we want to be different and do better. So we design our products to last. Starting from not using any plastic in our clothes, we strive for true sustainable circularity. Not only are products made to order and there is no waste from overstocking, but when products are no longer wearable or desired, they can be sent back for free, following the instructions on the wash care label. The materials will be reprocessed and made into brand new products. Just as good as new. You'll even get store credit in return for sending the item back!
The circular economy is the future, so join us in ending waste together.
We have taken strong consideration within every step of our business model to be as sustainable as possible.
PRODUCT SUSTAINABILITY
Instead of mass produced plastic-based screenprinting, our manufacturer's products are printed digitally using water based inks that conform to the Global Organic Textiles Standard, and OEKO-TEX standards on hazardous chemicals. By printing one at a time to order, and using technology where the ink is mixed as it is put down onto the t-shirt, there's no waste or overproduction - only the ink that is needed is used. And curing prints using renewable energy powered dryers, our manufacturer can create products that are full of colour yet free from harmful substances. The printing systems used to produce these products is part of what makes these products vegan. They contain no animal derived products and are not tested on animals. All the ink ingredients are tested to OEKO-TEX® Standard 100, which means they are free from harmful chemicals.
Yes, the products, packaging and print contain no animal derived products and are not tested on animals.
Yes, these products are manufactured and printed by our manufacturer on the Isle of Wight, and the company has a Soil Association issued, Global Organic Textile Standard certification which is based on in person audits of the entire supply chain from seed to shop. As well as verifying the raw material is grown organically, which includes establishing the chain of custody and visiting farms and taking soil samples, the GOTS certification process includes a detailed audit of a wide range of social and sustainability criteria that includes other inputs and working conditions. You can read the standard here.
According to a carbon trust study, about 70% of the carbon emissions from a typical t-shirt are from washing and drying, while transport of goods is about a tenth of that. Our factory is powered by renewable energy too, so if you're looking for CO2 savings, ease off the appliances and wash cool, hang dry.
Where the fabrics are dyed, the water is recovered, cleaned and recirculated then used again. It's a closed-loop process. At the end, the water coming out of the filters and going back round to be reused again is crystal clear, literally clean enough to drink; which we show in the video above. Our manufacturer's organic cotton is grown in the North of India where monsoon rains provide the water needed to grow the crop. Organic farms also have the advantage of maintaining a soil quality high enough to grow other crops, including food, in the dry season which reduces pressure on the water table when it is traditionally most stressed.
Our manufacturer prints to order, meaning that there is no waste of overstocked products, and less demand for the materials and the natural resources used to make them, including water. In the wet processing factory, a closed-loop water system is used in the washing, dyeing and finishing processes, where the used water is purified and reused again and again, minimising water use.
ZERO WASTE
In a circular economy, products are designed from the start to be remade. That means materials flow back to the maker and the new product is made from the old product. It is different from recycling, or up-cycling, where material is turned into something different before it is then thrown away. A circular economy is infinite because by design the material flows in a loop.
No, T-shirts are printed to order in the UK using water based inks one at a time and in real time, so there's no waste from over-stocked designs and sizes. What is made is only what people need, when they need it.
The products are designed to come back and be remade into new items when they are worn out. Our manufacturer is recognised internationally for having built a working circular supply chain. This means that instead of creating waste, new products are made from it. Each item has a QR code inside on the washcare label. You can scan this or go to the URL on the product to get instructions for return postage, which is free in the UK, and to claim store credit in return for the recovered material. Learn more about this initiative here.
Because orders are printed the same day to order, this means we only make what people need when they need it. This means there is no unsold stock and so there is no unsold stock to dispose of.
No, there's no single-use plastic packaging. Instead, orders are packaged in a rip proof, splash proof kraft paper mailer that is fully recyclable.
Organic cotton offcuts are collected and mixed with rainwater, then pressed and dried in the sun. The mulch is used to fertilise soy plants, which are then used as a pigment. These ingredients are used to create organic cotton notebooks and paper products available via our manufacturer.
Yes, send back as many as you want. Every product we make is designed to be sent back to us once it has been worn out. There is a QR code on every wash care label which will lead you to instructions to follow. We'll send you a £5 discount code for each item you return. To make the economics of recycling work, right now it's only possible to use one code per order.
Yes we can, but right now we're focusing on remaking our own products. It's important also to keep the materials stream pure and many other brands use plastic or semi synthetic materials - even recycled plastic - that shed micro-plastics into our oceans. Our products are made from natural materials in a way that is designed for easy re-manufacturing. We also need to find a way to make it worthwhile for us to do recycling for other brands who don't currently pay for the waste they produce. We are going to do this soon, so watch this space. If you are a large brand that would like to access this service, please mail us using the contact form to stay updated on when this service will become available.
ETHICAL PRODUCTION
Workers' conditions at every stage in the process are covered by the (GOTS) VERSION 6.0 social standards required to meet organic status. These standards are the minimum level required and include fair wages, fair working hours, rights to join trade unions, health and safety, no child workers, no discrimination, bullying or harassment. Employees are paid in line with the living wage as defined by the Global Living Wage Coalition, as standard.